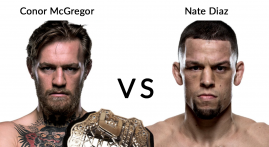 Vegan UFC Fighter Nate Diaz stepped in to fight the formidable Conor McGregor on only 12 days notice and claimed a impressive victory after beating his opponent in the second round. McGregor was unable to keep up with Diaz and was completely overwhelmed by Diaz's energy and unrelenting pace. McGregor had been in training for months leading up to this fight as he was originally going to fight Rafael dos Anjos who withdrew at short notice with a foot injury.
Diaz stepped in to replace dos Anjos with only 12 days notice and without the months of proper training usual before a fight of this magnitude - McGregor is ranked third in world of the UFC's pound-for-pound rankings, behind light heavyweight Jon Jones and flyweight champ Demetrious Johnson, and was previously undefeated in UFC.
McGregor was caught by a powerful left hand in the second round which stunned the UFC featherweight champion - fighting for the first time at welterweight 25lbs heavier - and Diaz simply took his opportunity and poured on the pressure.
Diaz took McGregor to the ground and the fight was his. The Brazilian Jiu-Jitsu black belt finished the fight quickly after McGregor was forced to submit.
McGregor went into the bout as the overwhelming favourite and was looking to claim his 20th win in MMA and his eighth-consecutive victory in UFC. But instead suffered his first UFC defeat and only the third of his career.
Ido Portal, one of Conor McGregor's coaches leading up to the fight once famously stated: "I can't view vegan diets as something healthy. I've never met a vegan who was able to perform with the same energy levels as I see with someone with a more carnivore diet. I actually refuse to work with vegans".
One can only assume Ido Portal is now eating some humble (vegan) pie.
Diaz, who maintained an incredible energy throughout the match, has been a strict vegan since he was 18 years, following the advice of his older brother Nick Diaz, who is also a UFC fighter. The Diaz brothers consume a predominantly raw plant-based diet and credit this with their superior performance capabilities inside the ring. Both brothers have incredible cardio, compete in triathlons and never seem to fade for a second in fights despite pushing a frantic pace.
"I've been vegan since I was 18 years old," comments Nate Diaz, who was the winner of "The Ultimate Fighter 5 reality series. "I've been eating raw for the last year and a half, not full complete raw, but as much as I can."
Nate has been eating this way for almost a decade and his diet allows him to train exceptionally hard. Diaz's cardio is among the best in the UFC and he runs or bikes twice a day on top of wrestling, boxing and martial arts training.
Additionally, the retired fighter and TUF 9 winner, James Wilks, found that adhering to a whole food, plant-based vegan diet enhanced his performance capabilities.
The idea of meat, often filled with hormones, pesticides, and other harmful toxins, decomposing in their bodies, isn't something that appeals.
There are plenty of great sources of plant-based protein such as:
Legumes such as beans, peas and lentils
Nuts and seeds
Soy products including soy beverages, tempeh and tofu
Whole (cereal) grains.
Quinoa Rice
Spirulina
And according to the American Dietetic Association, a vegan lifestyle brings many benefits, including guarding against these illnesses:
Heart disease
Colorectal, ovarian, and breast cancers
Diabetes
Obesity
Hypertension (high blood pressure)