After competing in the WDFPF World Powerlifting Finals 24 year old Matthew Jones placed 3rd in the world based on weight and age class and credits his vegan diet for faster recovery times.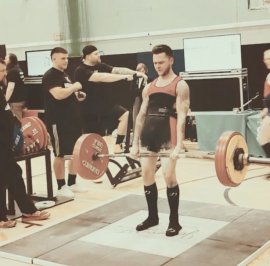 Matthew has been vegan since he started powerlifting competitively last January. Powerlifting consists of three lifts: bench press, squat, and deadlift, and the totals from all three lifts are added together to give an overall score. Competitors are placed in weight/age categories.
In the under 67.5kg (148lb) category, Matthew managed to deadlift 210kg (463lb), narrowly missing out on 2nd place, but impressively lifting over 3 times his bodyweight.
We spoke to Matthew and he revealed his vegan diet is the key behind his success.
"By eating a healthy plant-based diet I'm supplied with an abundance of micronutrients which are crucial for the aid of recovery which is important for building muscle and strength.

And recovery is key, especially in powerlifting."

- Matthew Jones
Matthew, from Ystrad Mynach, in Wales, UK, said: "I eat what people call whole-foods - which consists of things like oats, nuts, seeds, rice, potatoes, beans, tofu and lentils.
"I wouldn't exactly say it's increased my strength in anyway, I'd obviously be strong if I was eating meat, but it hasn't restricted me either."
Matthew credits his whole-foods plant-based diet to faster recovery times that allow him to train more regularly.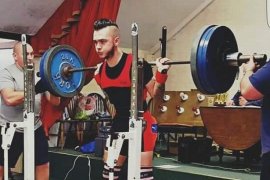 "What I would say is that it's definitely made me faster and helps me recover much quicker which allows me to train more regularly."
After adopting a plant-based diet Matthew later became aware of the ethical side of abstaining from animal products:
"When I started powerlifting I dd a lot of research and I watched a lot of documentaries which discussed the health benefits of a vegan diet," he said.
"It was then that I also learnt about the ethical side to it, and realised how cruelly animals are often treated."
"I trained hard in between the two competitions and the vegan/plant based diet helped. I'd still be eating around 3,500 calories a day, spaced out over five to six meals.
I don't miss meat one bit - whatever you cut out you can replace with other things. I've tried and experimented with so many new foods, some that I never knew even existed since starting this diet.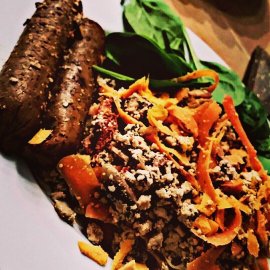 One of Matthew's high protein delicious vegan meals: Scrambled Tofu and mushrooms with sun-dried tomatoes, Tofurky sausages, spinach and grated carrot - 70g of protein in this small meal.
"You only have to look at athletes like David Haye and UFC fighters to see how well it works."
"I think it helps now that there's more information out there and supermarkets provide a wide range of different vegan options."
Matthew is in good company as many athletes, such as boxing champion David Haye, UFC fighters Nate Diaz and Abel Trujillo and world-record holding strongman Patrik Baboumian who have found that they perform better without meat and dairy.
The meat industry spends billions trying to convince people they need meat but more people are now realising it's a completely unnecessary component to their diets - and one that causes suffering, environmental damage and increased chance of contracting many diseases.