The UK supermarket chain Sainsbury's just revealed that after launching their vegan cheese range in September last year sales were 300% greater than they expected.
The supermarket launched five vegan coconut-milk based cheeses under their 'FreeFrom' brand and received widespread media attention mostly due to a strange rant resulting in the cheese being widely known as "Gary".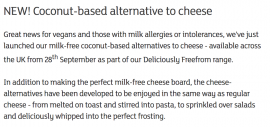 Sainsbury's vegan cheese range was launched in September 2016
There are 7 delicious products to choose from:
Cheddar-style Dairy Free Cheese
Garlic & Herb Dairy Free Soft Cheese
Grated Cheddar-style Dairy Free Cheese
Greek-style Dairy Free Cheese
Cheddar Style With Onion Dairy Free Cheese
Original Dairy Free Soft Cheese
Wensleydale-style With Cranberry Dairy Free Cheese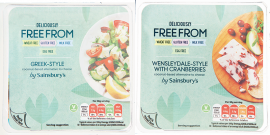 Shortly after the launch a woman launched an epic 1000-word rant insisting that "cheese cannot be made with coconuts," and instead suggested it be called "Gary or something,".: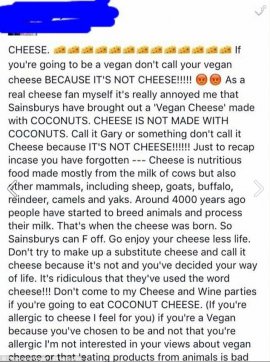 The hilariously over-the-top rant went viral and the name "Gary" stuck, with even Sainsbury's getting in on the joke, photoshopping their label to read "Gary by Sainsbury's":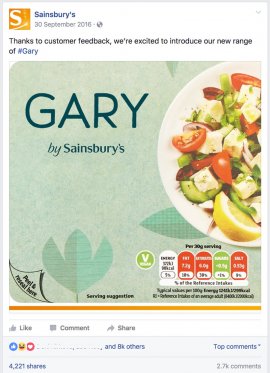 This image was then shared over 4,000 times helping to bring further attention to the launch. Throughout the first month there were many reports of the new vegan cheeses being difficult to buy as it was constantly sold out.
2016 was also a great year for Pret-a-Manger who launched a veggie-only store as an experiment. They found sales skyrocketed over 70% since switching to veggie-only and have promised to open more veggie-only stores as a result.
Vegan food is rapidly growing in popularity - last year vegan food sales increased by 1,500%!
Increased vegan food sales is excellent news - and over the next five years veganism is predicated to continue exploding in popularity, making it easier than ever for people to ditch the meat and switch to a vegan lifestyle.

Living in the UK and thinking about going vegan? These coconut-milk based cheeses make great replacements to help you eliminate animal milk cheese from your diet.