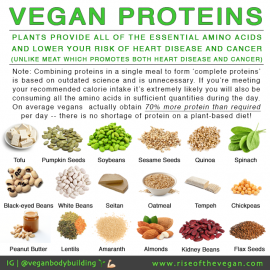 Vegans often hear: "but where do you get your protein?" Well, thanks to a large study that compared the nutrient profiles of around 30,000 non-vegetarians to 20,000 vegetarians and around 5,000 vegans. We now know that vegans average 70% more protein than the recommendation every day.[1]

So protein is by far the most overstated nutrient. People are unnecessarily obsessed with protein - but it's very, very difficult to actually be deficient in protein, and only people who are falling far short of their recommended daily calorie requirement (such as people with eating disorders) will be deficient in protein.

It is very easy for a vegan diet to meet the recommendations for protein. Nearly all vegetables, beans, grains, nuts, and seeds contain some, and often much, protein. Fruits, sugars, fats, and alcohol do not provide much protein, so a diet based only on these foods would have a good chance of being too low in protein. However, not many vegans live on only bananas, candy, margarine, and beer. Vegans eating varied diets containing vegetables, beans, grains, nuts, and seeds shouldn't have any difficulty getting enough protein as long as their diet contains enough energy (calories) to maintain weight.

Athletes such as bodybuilders of course have a greater daily requirement for protein, and we've covered many vegan athletes building huge amounts of strength and muscle without any issues. There is normally no advantage in consuming more than 0.82g/lb (1.8g/kg) of protein per day to preserve or build muscle. This already includes a very safe mark-up. There hasn't been any recorded advantage of consuming more than 0.64g/lb. The only exceptions to this rule could be individuals with extraordinarily high anabolic hormone levels (steroid users).
References