The new CEO of Tyson Foods Inc., one of the largest meat processors in the world, sees plant-based protein as a big part of the food industry's future - a future that is increasingly looking meatless.
Tom Hayes told a reporter from FOX News he wants to change people's perception of the brand, and move the company towards sustainability to feed the world's growing population.
When asked by a reporter:
"You invested 5% in Beyond Meat, which is a plant-based meat company. Is that our future do you think? Are people headed down the plant-based route?"
Hayes replied:
"I think they are: if you take a look at the FAO (Food and Agriculture Organization) stats, protein consumption is growing around the world—and it continues to grow. It's not just hot in the U.S.; it's hot everywhere, people want protein, so whether it's animal-based protein or plant-based protein, they have an appetite for it. Plant-based protein is growing almost, at this point, a little faster than animal-based, so I think the migration may continue in that direction".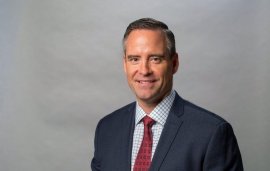 Tyson Foods Inc. CEO, Tom Hayes was appointed February 2017
As well as owning a 5% stake in the plant-based protein start-up Beyond Meat, the food-giant also launched a venture capital fund worth $150 million to invest in startups that develop plant-based meat alternatives.
When Tyson Foods invested in Beyond Meat last year it was the first time a meat company invested in a vegan competitor. "The quality of the Beyond Burger is amazing. We think it's a game-changing product that gives us exposure to this fast-growing part of the food business", says Monica McGurk, senior vice president in charge of strategy and new ventures at Tyson Foods.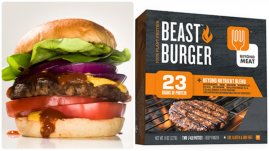 Beyond Meat's products are all completely vegan
Beyond Meat is growing fast - and with favorable reviews. Mark Bittman, a food journalist with The New York Times, wrote that "you won't know the difference between Beyond Meat and chicken. I didn't, at least, and this is the kind of thing I do for a living." Bill Gates wrote on his personal blog that, "I couldn't tell the difference between Beyond Meat and real chicken". In 2013, chef and television personality Alton Brown wrote about Beyond Meat's Beyond Chicken that, "it's more like meat than anything I've ever seen that wasn't meat".
The business of plant-protein will likely be less controversial for Tyson Foods, which has a string of disgusting controversies involving severe animal abuse, price fixing, undisclosed use of antibiotics, bird flu and even smuggling undocumented workers into the U.S..
Last year Google CEO Eric Schmidt predicated a plant-based revolution, with people moving away from meat to plant-based protein. Plant-based protein was shown to be better for building muscle than animal protein, and fitness enthusiasts are increasingly moving away from animal protein to plant-based protein by ditching whey in favor of plant-based protein.