****************
EDIT: Please see this article for the latest information on this story:
So what's happening with Quorn going vegan?
****************
Quorn is a meat substitute product available in the UK, Ireland, the US, Australia, Sweden, and other countries that launched in 1985.
Since they started their company (and for quite a surprise to many - particularly new vegans) none of Quorn's products were suitable for vegans as they disappointingly used egg-white in every single product.
In late 2011, Quorn released their first vegan product, called the Quorn Vegan Burger, available initially only in the US. Following strong sales of the product and increasing demand for vegan products from the UK market 2 vegan products were launched in the UK in October 2015: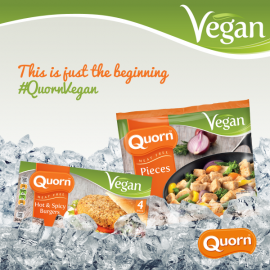 We can assume these products have been well received, because now it looks like Quorn have decided to make their entire range 100% vegan and completely phase out eggs.
We don't have any official details from Quorn yet, only that they're "working on it", and that the egg will be replaced with potato starch. However a "worldwide shortage of potato starch" is slowing down their progress.
Thank you to the change.org petition started by Tracey Dixon that attracted almost 3,000 signatures and to the Vegan Lifestyle Association for communicating with Quorn to get this information.
The response received from Quorn: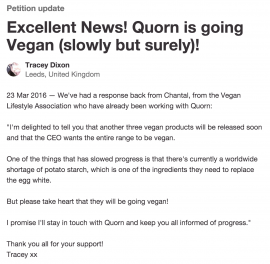 And thank you to each and every vegan who votes with their wallet on a daily basis and only chooses to buy ethical food and products.
It's because of you that companies like Quorn are taking notice and changing their policies. Every person counts, and together we are making a big difference. We're going to see much more of this from companies as the vegan population increases.
Image credit: IG|vegansidekick
*****UPDATES*****
UPDATE 1: We've reached out to Quorn for an official statement on their plans, and we'll update this article when we receive a reply. In the meantime, they have released this statement:
"We're delighted Quorn customers are so enthusiastic about our new Vegan range. We are aware that a statement has been circulating regarding our Vegan plans for the future. Whilst as a business we remain wholly committed and passionate about developing our Vegan range further and launching more delicious products, due to the technicalities involved as well as a shortage of potato protein – a vital ingredient – we cannot at this stage commit to making the entire Quorn range completely Vegan. But watch this space as more products are coming."
UPDATE 2: We've contacted Quorn to ask them if there wasn't a "shortage of potato protein" would they then be able to make their entire Quorn range completely vegan? It seems their CEO does want their entire range to be vegan, but they are a huge multinational company and it would take some time to reformulate all their products. We'll update this article when we receive a reply.
UPDATE 3: In the meantime, the best thing to do would be to sign Tracey Dixon's original partition that caught Quorn's attention: https://www.change.org/p/kevin-brennan-make-all-quorn-products-suitable-for-vegans/

UPDATE 4: Some more good news: it seems this attention on the Quorn Facebook page has resulted in some lively discussion and caused many vegetarians to want to investigate why vegans don't eat Quorn if it contains eggs - once they start looking into the milk and egg industries (particularly what happens to all male chicks) and the 'myth' of free range, we're sure it will result in more people choosing to go vegan!

UPDATE 5: Here are a selection of the comments being left on Quorn's Facebook page.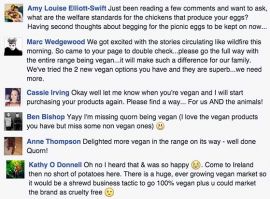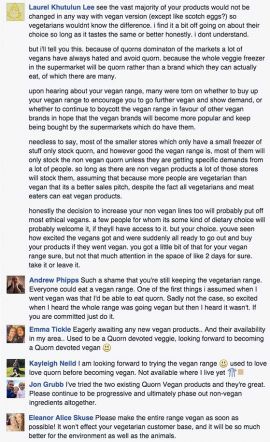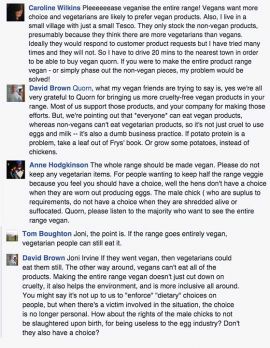 UPDATE 6:
We're still awaiting a reply from Quorn to clear up the confusion. Their official statement was vague and seems to contradict the earlier information given to Vegan Lifestyle Association.
If it wasn't for this "worldwide potato protein shortage" would they be going completely vegan like their CEO apparently wants? Obviously Quorn couldn't do this overnight - it would take them some time to transition their products as they're a huge multi-national company. But it is possible.
With the way the world is moving, and with more people becoming aware of the brutal reality of egg/dairy industries, it would make so much sense for Quorn to switch to being entirely vegan if they don't want to be left behind with the very strong competition emerging from the USA like Beyond Meat and Impossible Foods, which are both 100% vegan companies and producing highly sought-after products.
****************
FINAL UPDATE: Please see this article for the latest information on this story:
So what's happening with Quorn going vegan?
****************