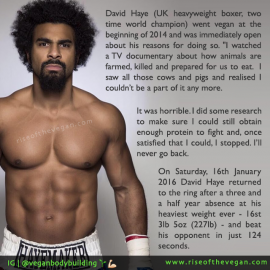 Some more vegan inspiration to share... Yesterday (Saturday 16th January 2016) David Haye, 35, knocked De Mori out with an overhand right with 49 seconds remaining in the first round of the fight at London's O2 Arena. This was Haye's first fight in three-and-a-half years.
In early 2014, David Haye became vegan, and was immediately open about his reasons for doing so. "I watched a TV documentary about how animals are farmed, killed and prepared for us to eat", he explained.
"I saw all those cows and pigs and realised I couldn't be a part of it any more. It was horrible. I did some research to make sure I could still obtain enough protein to fight and, once satisfied that I could, I stopped. I'll never go back."
David Haye was back in the ring after a three-and-a-half year absence at his heaviest weight ever - 16st 3lb 5oz (227lb) - and beat his opponent in just 124 seconds.
"I'm punching harder than ever. De Mori is a tough guy and I felt so cool and calm in there, I don't think any heavyweight on the planet could take those punches"
"My speed doesn't feel any slower at all, it feels better."
When asked about his troublesome shoulder, he said: "It feels better than it was before. I've spent two years on rehab on this shoulder, building all the muscles and I'm so strong now"
"I'm hitting harder than I've ever hit before and I think this new improved version of me will go on and win heavyweight championships. It felt like home. I had no nerves. This is where I belong."