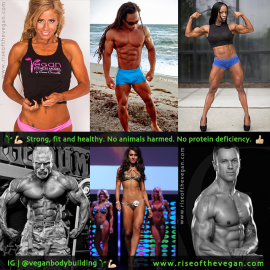 A vegan diet contains everything you need to be strong, fit and healthy. We are working on busting this common misconception that you need meat/milk to be healthy/strong.
The most common misconception out there is that you have to consume meat in order to get enough protein. This is a complete untruth. There may protein in meat, but that doesn't mean that it doesn't exist anywhere else. In fact, vegans simply do what cows, pigs, sheep and chickens do; we go to the source. Beans and pulses (lentils, lima, edamame, pinto, black), grains (brown rice, whole wheat bread and pasta, quinoa, bulgar) and nuts (brazils, peanuts, cashews, almonds, pistachios and walnuts), as well as green vegetables (such as kale, broccoli, seaweed, peas and spinach), are all excellent sources of protein as well as micronutrients and phytonutrients.
In fact, experts from the World Health Organization (WHO) and the Food & Agriculture Organization of the United Nations stated in their joint report:
"Households should select predominantly plant-based diets rich in a variety of vegetables and fruits, pulses or legumes, and minimally processed starchy staple foods. The evidence that such diets will prevent or delay a significant proportion of non-communicable chronic diseases is consistent. A predominantly plant-based diet has a low energy density, which may protect against obesity."
For your health. For the environment. For the animals. There's never a better time to go vegan than today and if you need any help transitioning to a vegan diet, get in touch and we'll be happy to offer assistance with becoming a happy, strong, healthy, fit vegan!
In the image: Crissi Carvalho (IG@veganfitnessmodel), Torre Washington ([email protected]), Jehina Malik (IG@ifbbjehinamalik1), Barny du Plessis (IG@barnyduplessisprobodybuilder), Stephanie-Jane Rowden (IG@stephanie_vegan_wbff_pro), Ed Bauer (IG@edbauerxvx)