"I like to promote the vegan industry," Nate enthuses. "I hear a lot of criticism from people saying you need meat to be strong and for recovery, and it's a bunch of bullshit, because I train harder than everybody. It's so easy to argue with these people. I'm like, 'Dude, have you done a tenth of what I've done?'"
Nate Diaz speaks about vegan diet for first time since beating Conor McGregor in UFC196 on March 5th in Vegas. McGregor was the firm favorite to win after his original opponent dropped out and Nate stepped in with only 11 days notice, however Diaz pulled a shock victory. Usually MMA fighters are preparing for upcoming fights for months in order to have the endurance and be in peak condition on the day of the fight.
Nate along with his older brother Nick say that his vegan diet has played a significant role in his success.
"If anything, meat's gonna slow you down", Diaz told Men's Journal.
Even though Nate's been vegan since 18 years old (and in the last few years mostly raw vegan), he doesn't mind that more MMA fighters jumping on the vegan bandwagon.
"People are jumping on slowly but surely," he acknowledges, adding, "but I think it's cool. I think you're a smarter and more intelligent fighter. Me and my brother are at the top of the game and have been for a long time. We're obviously doing something right. Besides knowing how to kick somebody in the head, you should know how to feel good tomorrow."
Guys like Nate can feast on everything from bean-based pastas and tempeh or tofu twists on typical entrée dishes to healthful bowls of oatmeal, berries, nuts and fruits. The result of eating plant-based is more energy, fewer preserved foods slowly digesting, and a built-in less calorie-dense diet, making you far less likely to suffer from obesity and all the increased health risk factors that come long with meat/diary consumption.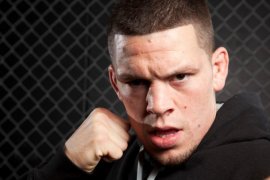 And after a while, Nate promises, not only does your appetite naturally crave earthier foods, your body necessarily rejects the alternative.
"I stopped eating dairy when I was about 17 for a fight," Diaz recalls. "And about a month went by that I didn't eat cheese or milk, and then after the fight was done I got a big bowl of Fettuccine Alfredo, and I was like, 'Finally, I get to eat what I want.' Then I went home and was sick and had a headache and was in and out of the bathroom for a week. That shit really messed me up. So after that cleared up, I was like, 'OK, I don't need that anymore.' I felt better and realized I work better without that stuff."
The totally animal-free diet is still quite rare amongst the majority of other MMA fighters, however there are numerous examples of great vegan MMA stars other than the Diaz brothers.
Mac Danzig, one of the first vegan pro MMA stars, made the switch about halfway through his career in the mid-2000s and was prominently featured in the 2011 documentary Forks Over Knives.
It's not just male fighters experiencing success on a plant-based diet - Heather "Hurricane" Clark is another example of a vegan MMA fighter succeeding of a vegan diet.
And there's plenty of other examples... UFC featherweight fighter Alex Caceres, who defeated Masio Fullen this past January via unanimous decision, converted to veganism within the last couple of years. Retired UFC combatant and former Ultimate Fighter welterweight winner James "Lightning" Wilks has long advocated plant-based eating. High-profile UFC signee CM Punk is a longtime vegan who also swears off any booze or intoxicants. Ex-Super Fight League Women's Bantamweight Champion Colleen Schneider's stuck largely to fruit and veggies for nearly 30 years.
We're sure we're going to see more and more plant-based athletes as word spreads on the huge health benefits of a vegan diet and people become more aware of the ethics behind veganism.