The Journal of the American College of Cardiology has just published a review of some of the popular diets/eating patterns that are promoted for cardiovascular health. The aim of the review is to provide doctors with accurate advice for patients. Doctors are unfortunately not given much nutritional education during their medical training, but diet is absolutely key to preventing disease in the first place.
Cardiovascular diseases (CVDs) are the leading cause of death globally, and as more people die annually from CVDs than from any other cause, it's very important for us to understand what lifestyle factors can decrease our risk.
The evidence has consistently shown that adopting a whole foods plant-based diet can not only prevent cardiovascular diseases, but halt and reverse progression of existing cardiovascular diseases.
And the evidence has lead the President of the American College of Cardiology, Dr. Kim Williams, to state:
"There are two kinds of cardiologists: vegans and those who haven't read the data."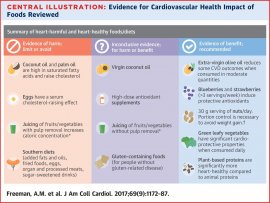 The review noted that:
"All sources of animal protein (eggs, fish, poultry, red meat, and processed red meat) were noted to increase all-cause mortality relative to vegetable protein, with processed red meat being associated with more cardiovascular deaths and egg consumption being associated with more cancer deaths".

"Evidence indicates that a diet that is predominantly plant based is associated with improved atherosclerotic cardiovascular disease (ASCVD) risk factors, reduced coronary heart disease (CHD) progression, and beneficial effects on ASCVD. A whole food, plant-based dietary pattern plays an important role in ASCVD risk reduction."
Other relevant parts of the study included:
"Epidemiological studies and Randomised Control Studies indicate that plant-based diets are associated with improvement in atherosclerotic cardiovascular disease (ASCVD) risk factors and a decreased risk of ASCVD. Studies have been conducted both for the prevention and treatment of cardiovascular disease with plant-based diets, often in conjunction with other heart-healthy lifestyle behaviors.
and:
"Furthermore, populations consuming a predominantly plant-based diet are reported to rarely develop cardiovascular disease. These include the Okinawans, the Papua Highlanders of New Guinea, the rural Chinese, central Africans, and the Tarahumara of northern Mexico".

"Additionally, in 1995 and 2014, a whole food plant-based diet intervention was shown to result in prevention of coronary artery disease progression and angiographic disease reversal. On this basis, it appears that a whole food, plant-based diet may halt progression of coronary atherosclerosis and achieve evidence of angiographic disease regression."

"Most recently, a large prospective cohort study of U.S. health care professionals described the association between animal versus plant protein intake and mortality outcomes. This study showed increased all-cause and CV mortality with high animal protein intake (including processed red meat, unprocessed red meat, and eggs). High plant protein intake was inversely associated with mortality rates. These findings are consistent with recommendations to increase plant protein intake and substitute plant protein for animal protein."
If you're wanting to avoid cardiovascular disease, the evidence has never been clearer: eliminate all animal products and adopt a whole food plant-based diet.
These findings come on top of new research published recently in the American Journal of Clinical Nutrition shows that plant-based protein is better for building muscle than animal protein.